April sees a shift in the GTA real estate market
The Greater Toronto Area real estate market continued tracking year-over-year growth in April, but the red hot market that peaked in February 2022 is showing signs of cooling off. In general, the April data shows that prices are moderating, and homes are staying on the market longer. However, there are some exceptions to these trends depending on the neighbourhood and the property. Rising interest rates, as well as measures unveiled in the Federal Budget and by the provincial government, are key contributors to the shifting market.
In April there were a total of 8,008 sales in the GTA. That's a 41.2% decrease compared to the 13,613 homes sold in April 2021 and a 26.9% decrease compared to March 2022.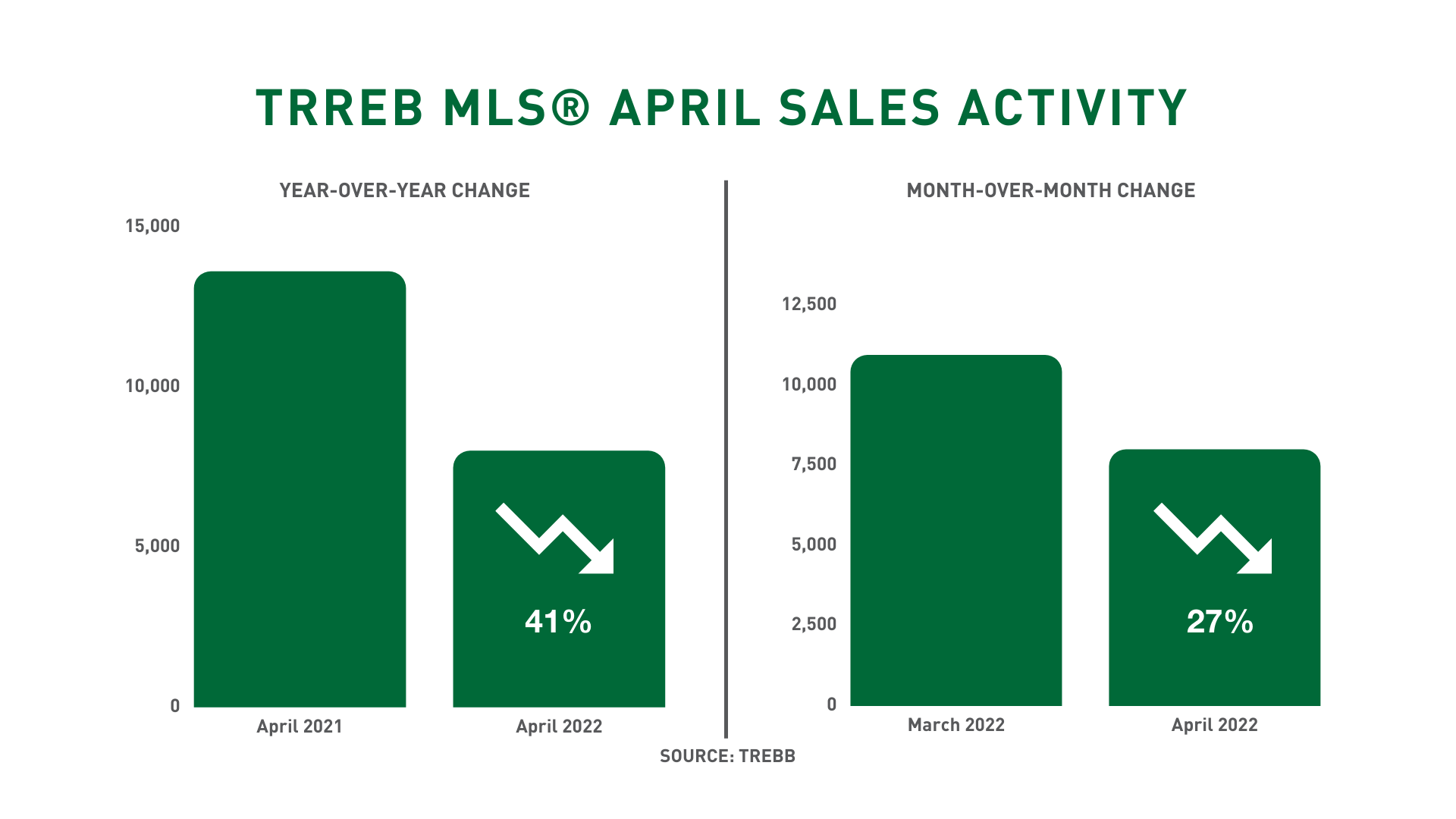 The average selling price of $1,254,436 was a slight dip from the previous month. However, the average price is still 15% above last year's average of $1,090,414.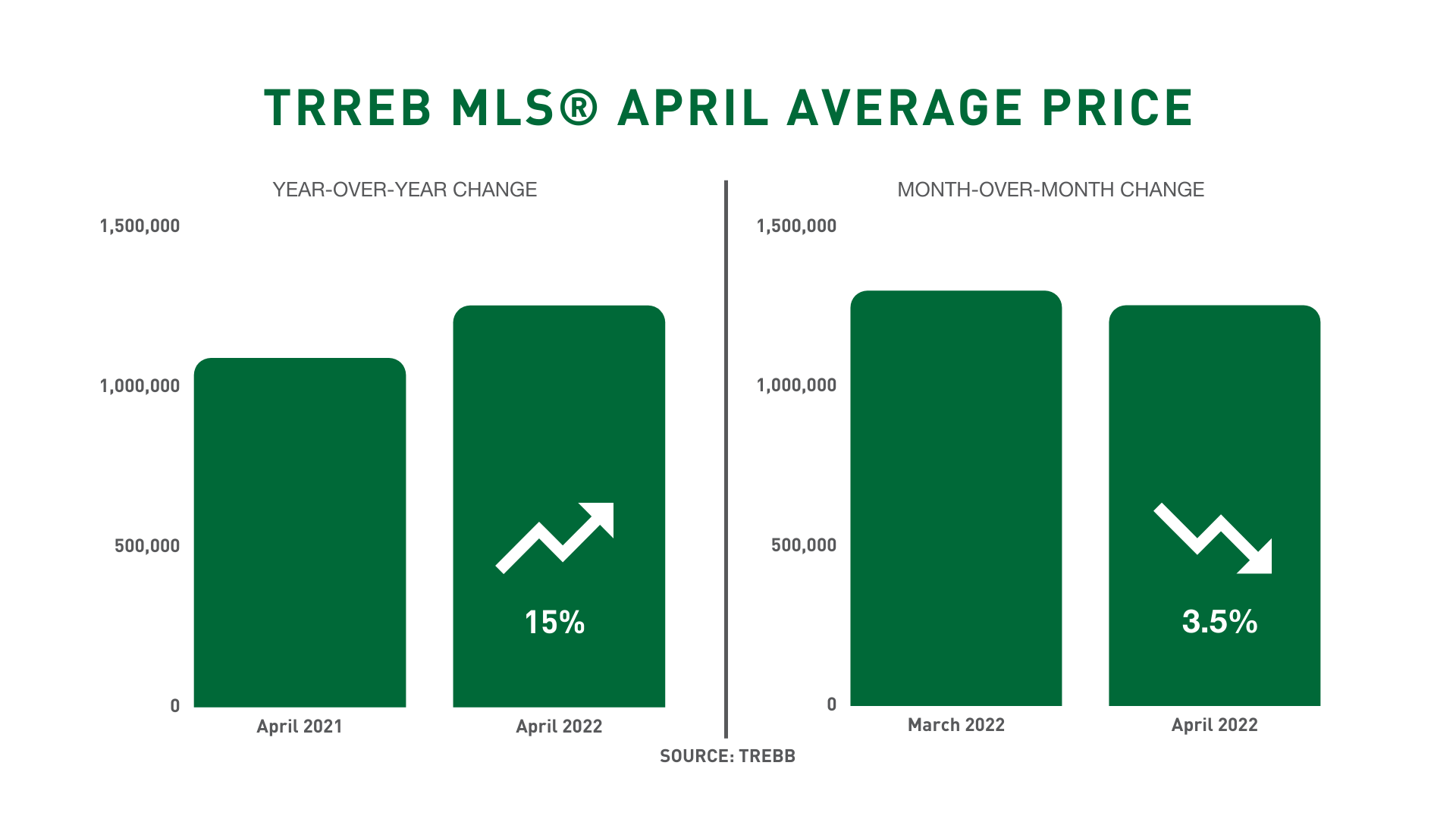 The average number of listing days on market was 11, a 10% increase compared to the 10-day average in April 2021, and a 37.5% increase compared to the 8-day average in March. Total active listings were up 12.3% year-over-year. New listings were down by 11.7% year-over-year, from 20,841 in April 2021 to 18,413 in April 2022.
Average price by home type:
The benchmark price for detached homes increased by 17.5% year-over-year to $1.63M but decreased by 4.1% month-over-month.

The benchmark price for semi-detached homes increased by 17.8% to $1.26M but decreased by 4.4% month-over-month.

The benchmark price for townhouse homes increased by 18.8% to $1.02M but decreased by 6.3% month-over-month.

The benchmark price for condos increased by 14.1% year-over-year to $790k but decreased by 2.3% month-over-month.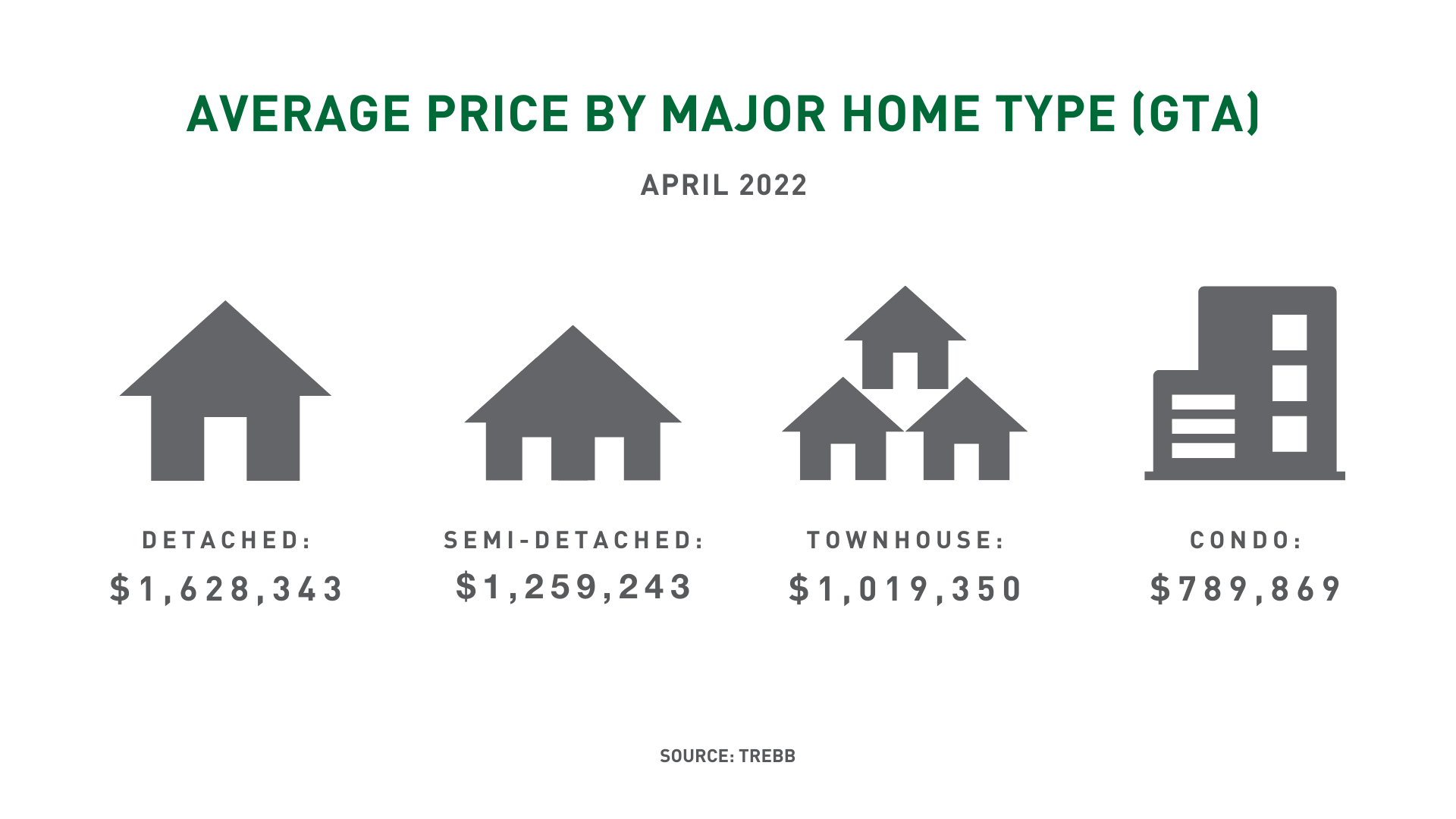 Important April Highlights
The Bank of Canada raised the

interest rate by 0.5% in April

. This is the first increase of this size since 2000. More increases are expected in order to fight inflation. The next announcement is on June 1, 2022.

The Canadian Real Estate Association (CREA) announced

a new pilot project

for open bidding on real estate sales.

The Federal Government released its

2022 Federal Budget

and it focused heavily on housing initiatives, including:

A ban on foreign buyers for two years.

A new tax-free First Home Savings Account that will allow Canadians under 40 to save up to $40,000 towards their first home.

$4B to launch a new Housing Accelerator Fund for affordable housing, to help create 100,000 new homes in the next 5 years.

An anti-flipping tax – removal of the principal residence exemption for properties that were purchased and sold within the same 12-month period (with some exceptions). The proposed anti-flipping measure would apply to residential properties sold on or after January 1, 2023.

Doubling the First-Time Home Buyers' Tax Credit amount to $10,000, providing up to $1,500 in direct support to home buyers.

Sales tax on all assignment sales. Starting May 7, 2022, anyone selling their agreement of purchase and sale to a new buyer will be subject to a tax of up to 26%.

Additional tax credits for home renovations, especially for seniors or those with a disability.
In April, we saw that the market was somewhat unpredictable. Some homes were in heated bidding wars, while others took longer to sell than in previous months. Keeping pace with neighbourhood market changes will be critical in the coming months.  
---
JOIN US FOR A SPECIAL EVENT on Tuesday, May 10 at 1:00 p.m. EST: 
Home Prices in a Shifting Market – What you Need to Know
Leadership panel discussion 
---
All stats are provided by Toronto Regional Real Estate Board.