Average GTA home prices continue to rise in February

February was another strong month for real estate sales in the Greater Toronto Area. In fact, February 2022 was the second-highest sales record in history for the month of February, only second to last February's record high. The January-to-February average price increase was a whopping 7.38%, and this is following an equally shocking 7.34% increase from December to January. That means the average home price is up 15.26% since December. The average price for a detached 416 home is above $2 Million for the first time in history. Average listing days dropped to single digits, 9 days on the market.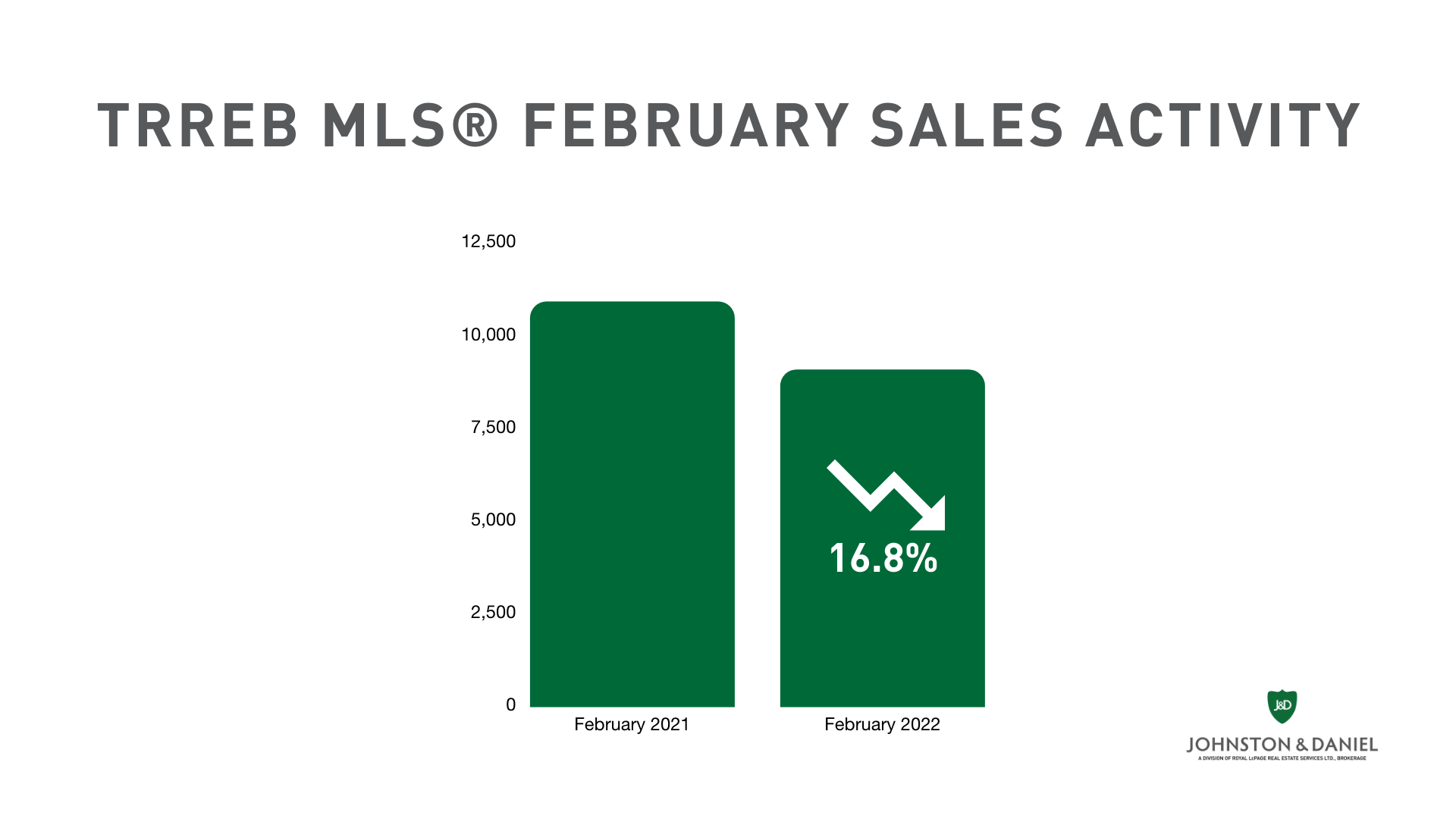 In spite of a strong sales month, and lack of supply to meet demand, there are some indicators that we may move towards a slightly more balanced market. New listings were down, but by a marginally lesser annual rate than sales. We'll also see the impact of increasing mortgage costs in the coming months.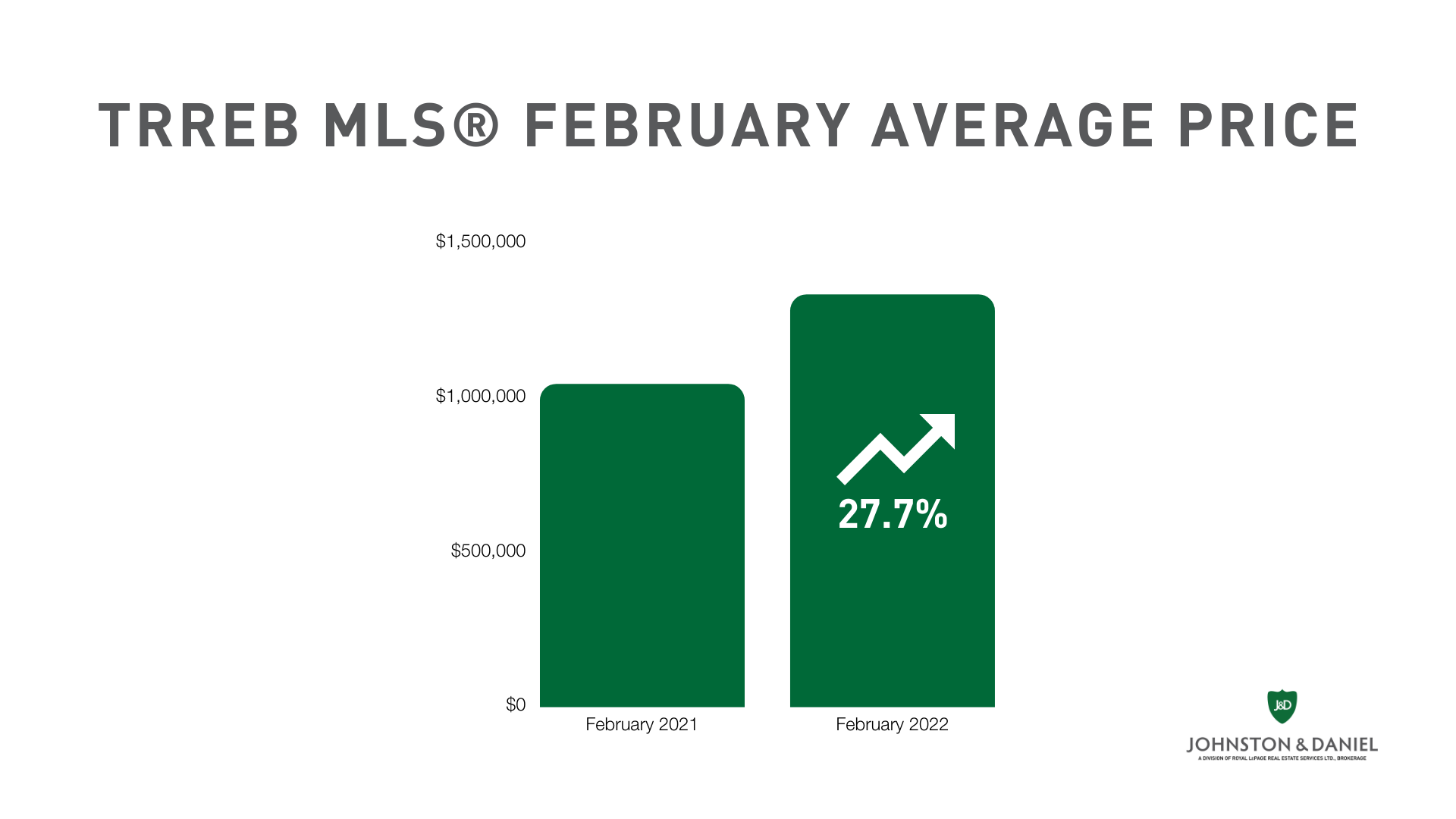 A total of 9,097 sales were reported in February, a 16.8% decrease compared to the 10,929 sales in February 2021.
The average selling price increased to $1,334,544 in February 2022. This is a 27.7% year-over-year increase.
The average listing days on market was nine, a 35.7% decrease compared to the 14-day average in February 2021. Total active listings are down 20% year-over-year. New listings were down by 6.6% year-over-year. 
Average price by home type:
The benchmark price for detached homes increased by 31% year-over-year to $1,797,203

The benchmark price for semi-detached homes increased by 29.6% to $1,358,415

The benchmark price for townhouse homes increased by 30.5% to $1,121,641, and

The benchmark price for condos increased by 24.6 year-over-year to $799,966.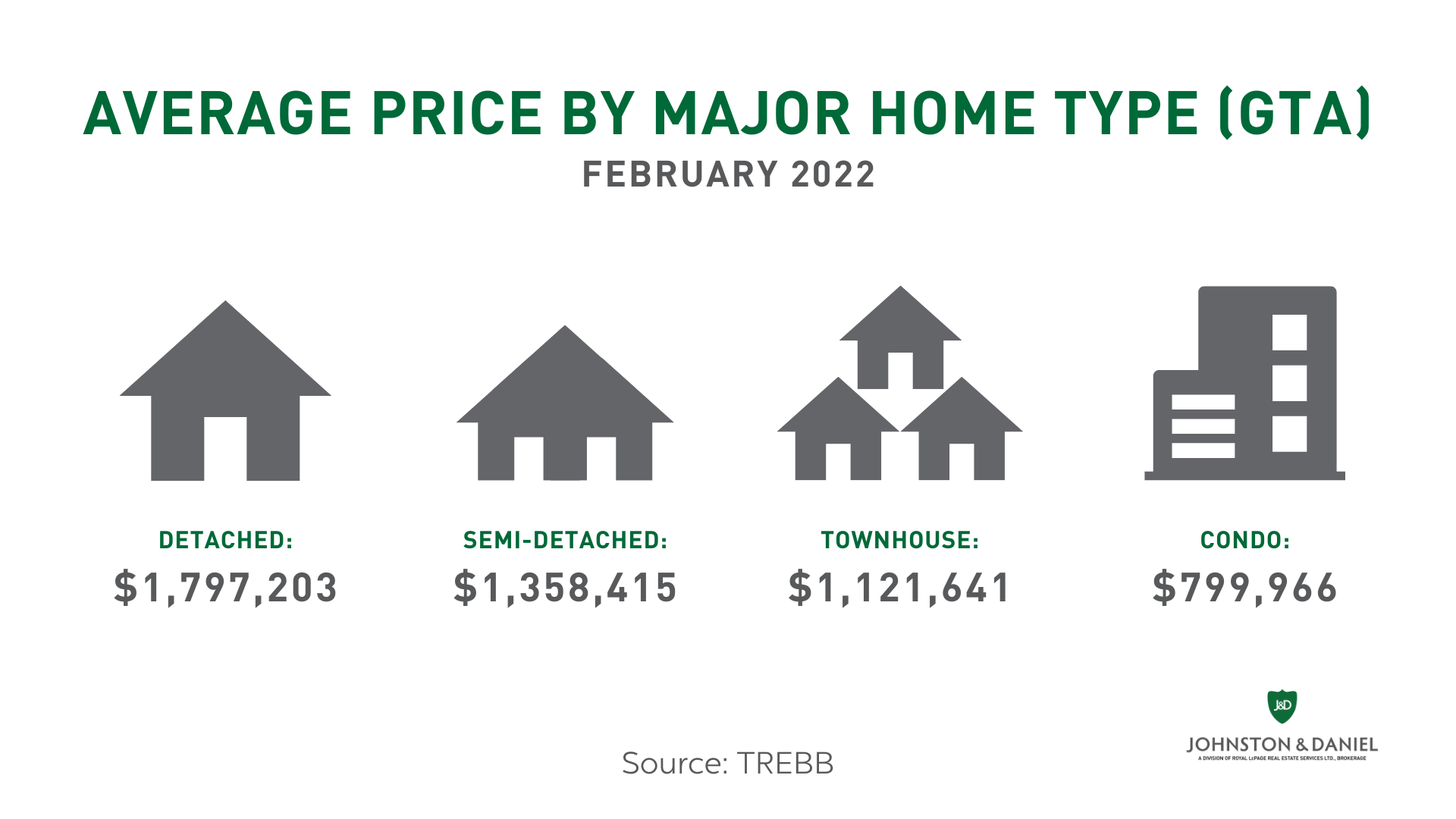 Interest Rates on the Rise
On March 2, 2022, the Bank of Canada raised its key interest rate for the first time since the start of the pandemic. The central bank increased its key rate by 0.25% to 0.5%. The general belief is that this is the first of several rate increases to take place in 2022. There are six more Bank of Canada interest rate announcements scheduled in 2022, the next one will take place on April 13.
"Substantial immigration levels and a continued lack of supply, however, will have a countering effect to increasing mortgage costs," said Kevin Crigger, TRREB President and real estate broker from Johnston & Daniel, a Division of Royal LePage Real Estate Services Ltd. 
The month of February certainly was a hot month with prices soaring in the GTA. If we want to move towards a more balanced market, rising interest rates are only part of the equation. We'll need to see various other shifts including a significant increase in supply.
—
All stats are provided by Toronto Regional Real Estate Board.