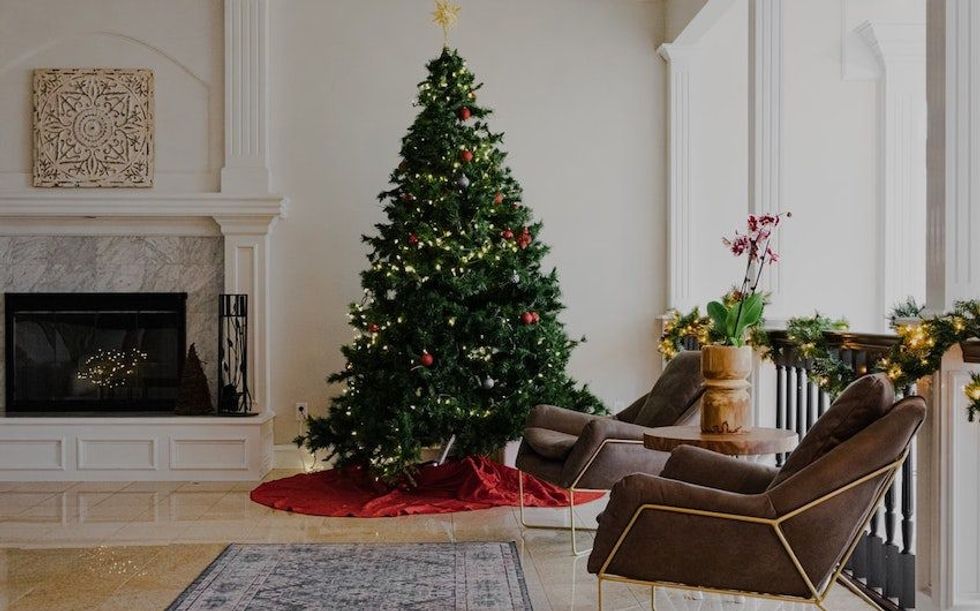 'Tis the season to be jolly, festive, and — perhaps — packing up to move house.
Indeed, even if a "holiday slow-down" does exist, the real estate market never truly stops, especially in the GTA. And if you're participating in the resale market at this time of year, you may be wondering how to prepare your abode for the occasion.
How much should you lean into the holiday classics, like sweets, scents, and songs? Is it better to go all-out, or instead stage your home the same as you might any other time of year?
According to design-savvy insiders at Johnston & Daniel, the ideal spot to land is somewhere in the middle.
"Preparing a home to list can be stressful in any season," says Edie Michel, Broker at Johnston & Daniel. "If the need arises to sell your home over the holiday season, take comfort and joy in knowing that there are market advantages."
Michel explains that, typically, the number of homes for sale at this time of year trends lower than market averages. Conversely, holiday buyers are generally more serious about purchasing, which means sellers can still find themselves in a happy position. What's more, the holiday season lends itself to optimizing the very first aesthetic factor sellers need to consider: curb appeal.
THE CLEANSE
"Maximizing curb appeal is the first opportunity to make a potential buyer fall in love with your home," Michel says.
And Johnston & Daniel Broker Johane Lefrançois agrees.
"Curb appeal is definitely the first draw when it comes to a house. Keeping the pathway to the front door clean, shovelled, clear of ice, and well-lit is a must," Lefrançois says.
Michel adds, once the front entryway is clean and clear, this is also an excellent spot to set the tone for your staging experience. Gardens can be gilded with twinkling lights, and doors, urns, columns, and entrances can be dressed with greenery, bows, lights, and seasonal scents. (And a quick tip for the images you plan to pair with your home's MLS listing? "Capture the magic of the season with night and or aerial photography," Michel says.)
Just like outside, your home's interior can't be styled until it's tidied.
"Whatever season you are listing your home in, it's always very important to start with a thorough decluttering.  Make sure all surfaces are clutter free, with limited décor items, ensuring that those that remain are neutral in taste and in no way offensive to a potential buyer," Michel advises. "Create space by removing furniture that is blocking passageways, overpowering a room or simply doesn't match other décor in the room."
During this part of the home-preparing process, Lefrançois recommends keeping the space's function top-of-mind, too: "Provide a place at the entrance where people can take off and put on their boots," she says.
THE MOOD
Appealing to the senses, Michel describes the way a pot of simmering cider creates a welcoming aroma in the home, while freshly-baked cookies do double-duty: they're a treat, and they "help make the emotional transference of a house to a home," she explains.
That said, world circumstances considered, Lefrançois recommends steering clear of the baked goods this year in particular. (If you're planning ahead to sell during a future holiday season, keep cookies in mind!) Lefrançois also encourages sellers to go easy on scents and sounds, as it's best to avoid overwhelming the senses of potential buyers.
"Soft background music is also nice, but it doesn't necessarily have to be holiday music," she says.
Okay, okay — the space is cleared, the mood is set… Now, can we get to decorating? Yes, say both Michel and Lefrançois, but they encourage you not to go buck-wild.
THE DECOR
"Your holiday decorating should be tasteful and simple," explains Michel. She encourages sellers to avoid: layers of decor that could hide the home's unique architectural features; decorations that could create mess with dropping needles; and anything that could overpower a room.
"Even though it is the holiday season, overcrowding the home with Christmas decorations, as beautiful as they are, will just make the home feel more cluttered," Lefrançois affirms. "[Fewer] but more unique decorations would be preferred."
The same mindset should be heeded when choosing a Christmas tree — Michel emphasizes that although a tree should suit a room's scale, this isn't the year to go all-out with fullness. Instead, a tall and slim selection will help draw the eye upward, creating the illusion of higher ceilings, while still allowing the room to uphold its sense of spaciousness.
"Keep the much-loved arts and crafts of children and grandchildren safely tucked away this year," Michel says, with regards to the tree's ornaments.
And a few final notes to keep in mind for quick reference as you prepare your home for listing this holiday season?
DO:
Keep gifts under the tree to a minimum – Michel
Try to incorporate backyard lighting, if your home has a garden – Lefrançois
Consider hiring a professional decluttering and staging company, to relieve some stress – Michel
DON'T
Over decorate — keep it beautifully simple – Lefrançois
Let the regular clutter of the season pile up — keep on top of it daily – Michel
Blast the music — soft in the background is best – Lefrançois
Cover Image: Ralph (Ravi) Kayden/Unsplash
Written By
STOREYS Custom Studio