Buyers Poised to Enter the Market as Interest Rates Stabilize, However Inventory Lags
The Bank of Canada's anticipated pause on interest rate hikes sets the stage for a better bring spring market for buyers and sellers, provided that there is enough inventory to satisfy demand.
GTA Market Activity — January 2023
The average selling price in the GTA for January 2023 at $1,038,668, slightly lower than December 2022 averages, while benchmark prices remain steady month-over-month, a trend which has continued in the GTA since late summer.
The GTA saw 3,100 sales in January, slightly below December 2022 volumes, and down 44.6% from the blistering pace of sales we saw last January. The sales total represents the second lowest instance of sales since 2009. The only other time sales dipped to these levels was April 2020, which of course turned out to be an anomalistic low created by Covid uncertainty. The 2020 uncertainty for the real estate market was short-lived and sales rapidly increased all the way to 15,652 by March of 2021, an all-time high. It is noteworthy that those purchasers willing to come off the sidelines and enter the market were able to realize substantial equity gains since April 2020.
Listings are still selling, on average, in less than one month.
Lack of Inventory Spurs Competition
New listings remained scarce in January. The lack of inventory is creating increased competition for desirable homes, particularly in the low-rise category. Buyers who held off last year on making a move are now competing for quality homes, and in some cases finding themselves in multiple offer scenarios given the insufficient number of listings on the market.  Sellers looking to list their home in the remaining winter months may be pleasantly surprised by the attention a well maintained, well priced home will receive in this current market.
"Home sales and selling prices appear to have found some support in recent months. This coupled with the Bank of Canada announcement that interest rate hikes are likely on hold for the foreseeable future will prompt some buyers to move off the sidelines in the coming months. Record population growth and tight labour market conditions will continue to support housing demand moving forward," said Toronto Regional Real Estate Board(TRREB) President Paul Baron.
If the volume of listings remains low, buyers, who are simultaneously feeling impatient and encouraged by stabilizing interest rates, may create some modest upwards pressure on prices on a month-over-month basis, particularly as we move into spring and more buyers come off the sidelines after waiting out the market during last year's interest rate increases.
Bank of Canada Announcement Provides Assurances to Consumers
On January 25th, in light of higher than anticipated employment numbers in December 2022, The Bank of Canada raised its benchmark interest rate by 25 basis points, to o.Sao.While this was the Bank's eighth consecutive interest rate increase, the announcement was primarily significant due to the Bank's inclusion of forward guidance that it expects to hold off on future rate hikes. Economists are already predicting that the Bank of Canada will turn its focus to easing monetary policy by the end of this year. This shift allows consumers to once again rely on mortgage interest rates remaining steady and with that, renews confidence that real estate will not see the declines in value in 2023 that we saw in 2022.
"Home prices declined over the past year as homebuyers sought to mitigate the impact of substantially higher borrowing costs. While short-term borrowing costs increased again in January, negotiated medium-term mortgage rates, like the five-year fixed rate, have actually started to trend lower compared to the end of last year. The expectation is that this trend will continue, further helping with affordability as we move through 2023," said TRREB Chief Market Analyst Jason Mercer
Current three and five year fixed mortgage rates are typically under 5%.
Timing the Market: Some Historical Perspective
While the cost of borrowing has gone up in the last year, the average price of properties across the GTA has fallen from the record highs recorded last winter. This creates an opportunity for wealth accumulation for those willing to make a move.As interest rates stabilize, the likelihood that values move higher in the second half of 2023 increases, resulting in the potential for equity increases for those willing to step to the plate while others continue to sit on the bench. Aggregate values in the GTA are down approximately 20fio from the peak, however, compared to average home prices throughout 2020, current prices remain 16fio higher over a two-year span. The last time an opportunity like this presented itself in the GTA came during the 2017 market correction. In hindsight, it was an excellent opportunity to enter the market or for those looking to move up in value or asset class. Property values in the GTA have increased 4Sio since 2017.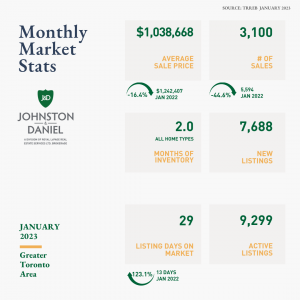 The average selling price was $1,038,668 as compared to $1,051,216 the previous month. The average price is below last year's average of $1,242,407.
The average number of listing days on the market was 29, up from 27 in December 2022. Total active listings were up 124.60o year-over-year, and new listings were down 3.70o year-over-year, from 7,983 in January 2022 to 7,688 in January 2023.
Benchmark price by home type (all TRREB reporting areas):
The benchmark price for detached homes was $1,360,900, 80o lower than in January 2022.
The benchmark price for attached homes was $1,043,300, 15.30o lower than in January
The benchmark price for townhouse homes was $791,500, 50o lower than in January 2022.
The benchmark price for condo apartments was $699,900, 10o lower than in January 2022.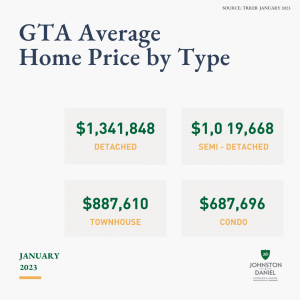 Average price by home type (416 and 905):
The average price for detached homes was $1,341,848, 230o lower than in January
The average price for semi-detached homes was $1,019,668, 30o lower than in January 2022.
The average price for townhouse homes was $887,610, 180o lower than in January
The average price for condo apartments was $687,696, 10o lower than in January 2022.
For more information, please contact one of our Professional Sales Representatives at 416-489-2121.