Springtime Brings Positive Outlook for Greater Toronto Area Housing Market as Prices Trend Upward
March 2023 Greater Toronto Area Market Statistics
Springtime has arrived for the housing marketing the Greater Toronto Area(GTA), where sales prices are trending upward once again. The aggregate average sales price for March settled at $1,108,606,with detached homes increasing to $1,468,651 or a 9.6%rise compared to January. Similarly, townhouses rose to $1,036,571,an increase of 6%.The interest rate environment has stabilized, and previously sidelined buyers have released their pent-up demand on the market, creating a shortage of inventory.
As the first quarter of the year ends, the number of sales have been steadily increasing, and all asset classes are firmly back in a sellers' market.  Townhouses had the highest absorption rate, with 640 sales and only 539 active properties remaining at the end of the month.  The detached market also had an impressive 68%sales-to-listing ratio. While the condo market lags behind other asset classes, the sales-to-listing ratio remains at an impressive 54%,the highest since April 2022. Overall, the GTA is currently experiencing an absorption rate of 68%, double the  rate of January.
There were 6896 total sales across the GTA in March. The condo market had the largest month-over-month sales increase, with 2,121 transactions or an increase of 46%, closely followed by the detached and townhouse markets, which also experienced monthly sales increases of 45%and 38%,respectively.Theshortage of available properties is heavily contributing to the decreasing sales activity as compared to previous years. Due to alack of supply, multiple offers have become prevalent across the GTA again.  If sellers remain on the sidelines, sales totals will continue to be lower than historical averages. However, sellers willing to list will be feeling like the belle of the ball, with a number of suitors looking to purchase.
"As we moved through the first quarter, Toronto Regional Real Estate Board (TRREB) Members were increasingly reporting that competition between buyers was heating up in many GTA neighbourhoods. The most recent statistics bear this out," said TRREB President Paul Baron. "Recent consumer polling also suggests that demand for ownership housing will continue to recover this year. Look for first-time buyers to lead this recovery, as high average rents move more closely in line with the cost of ownership."
The GTA housing market has been able to with stand a rapidly rising interest rate environment with great aplomb, which bodes well for the future of the Canadian Real Estate market, according to Royal LePage President and CEO Phil Soper "Eight times a year, the Bank of Canada announces changes to its key interest rate, and foreight consecutive meetings, they aggressively raised rates in an effort to tame runaway inflation.
On March 8th, 2023 they did nothing and doing nothing was a very big deal," said Soper. "Based on our just- completed national survey, this was the signal that many Canadians were waiting for – an indication that it was safe to wade back into the housing market to search for the family home they so desperately want or need."
The survey found that more than a quarter (26%) of Canadians who put their home purchase plans on hold over the last year due to rising interest rates will resume their search this spring, following the Bank of Canada's announcement last week to hold the overnight lending rate at 4.5%. Meanwhile, more than one third (36%) say they plan to move forward with their buying intentions, but will wait for the central bank to maintain the current rate for several consecutive months.
With the resurgence of multiple offers, sellers should be increasingly motivated to list their properties, as the downward pressure on sale prices has seemingly dissipated. Property values in the Greater Toronto Area (GTA) have not only stabilized but have also witnessed substantial gains since the beginning of the year. Looking ahead to the rest of 2023, barring any significant increases in interest rates or unemployment numbers, this upward trend is expected to persist.
The gains in property values were observed across all asset classes, with the detached market realizing an impressive uptick of 7.2%, resulting in an average sales price of $1,439,735, the largest increase since January 2022. Similarly, the condominium market increased month-over-month with an appreciation of 2.5%, translating into a final average sales price of $705,472 for the month of February. Pressure on inventory led to a substantial drop in average days on market which now sits at 22 days, the lowest since August 2022.
Market activity also increased, as evidenced by a substantial improvement in both sales and inventory in comparison to January. The number of properties sold reached its highest level since November 2022, with 4,783 homes changing hands. Concurrently, inventory levels continued to rise, with 9,643 active listings across the GTA's housing market. That said, transactions continue to lag as compared to the level of activity we have seen over the past several years. As fewer homes change hands, demand from those who in the medium-term anticipate participating in the housing market continues to build.
The positive February data bodes well for the rest of 2023 and beyond, indicating the return of stability and significant demand that will propel the market higher as consumer confidence continues to rise. As we move into the spring, more inventory will be welcomed by eager buyers who have been stymied by an ultra-low inventory
environment.
"Views on real estate have consistently been a foundational element in consumer confidence," said Nik Nanos, chief data scientist of Nanos Research. "Although not returning to the exuberant levels from a year ago when the housing market was red hot, the weekly tracking is seeing the beginnings of a potential positive trajectory."
As the trajectory of the market moves in a positive direction and sale prices start to tick upward, we anticipate more sellers re-entering the GTA housing market in the coming weeks.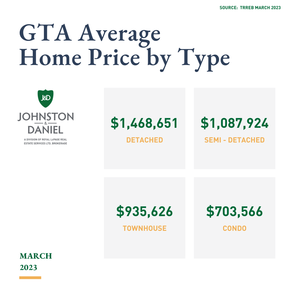 The average selling price was $1,108,606 as compared to $1,095,617 the previous month. The average price is
below last year's average of $1,298,666.
The average number of listing days on the market was 19, down from 22 in February 2023. Total active listings were
down 0.4% year-over-year, and new listings were down 44.3% year-over-year, from 20,061 in March 2022 to 11,184
in March 2023.
Benchmark price by home type (all TRREB reporting areas):
The benchmark price for detached homes was $1,424,500, 17% lower than in March 2022.
The benchmark price for attached homes was $1,084,900, 16.5% lower than in March 2022.
The benchmark price for townhouse homes was $818,500, 15% lower than in March 2022.
The benchmark price for condo apartments was $703,700, 13.3% lower than in March 2022.
The average price for detached homes was $1,468,651, 13.5% lower than in March 2022.
The average price for semi-detached homes was $1,087,924, 17%lowerthan in March 2022.
The average price for townhouse homes was $935,626, 14% lower than in March 2022.
The average price for condo apartments was $703,566, 13% lower than in March 2022.