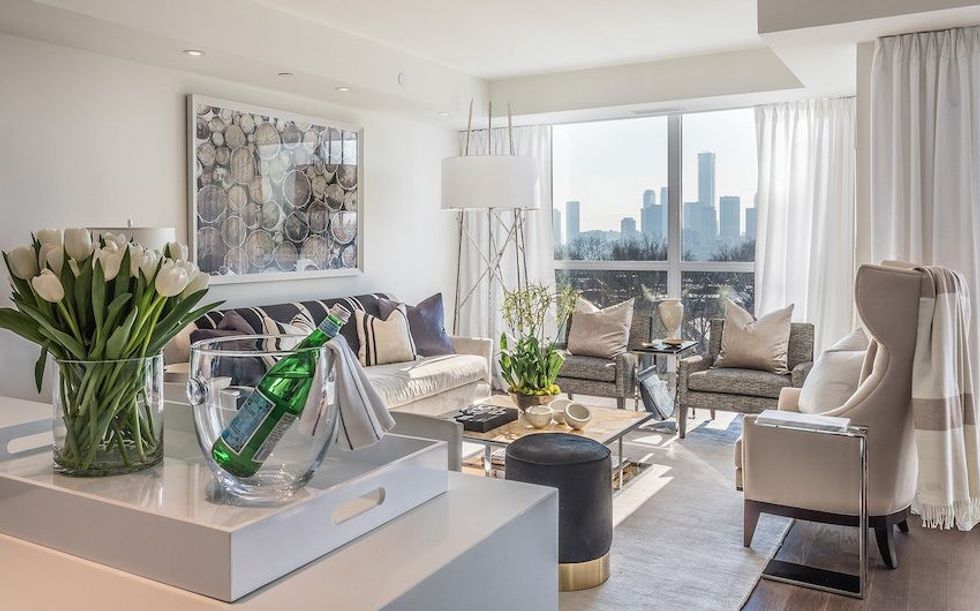 Imagine: all the luxury of a lavish condo buy, with none of the lofty and long-term financial commitment.
That's the sort of suite setup on the table for those breaking into Toronto's luxury purpose-built rental market. Concierge service, top-tier amenities, and — in many cases — sprawling square footage all come together in these builds, forming a picture-perfect package suited to those who prefer life's finer things.
And in these buildings, residents don't have to go to (bidding) war to snag their spot.
Offering a modern take on a market that has, according to award-winning Johnston & Daniel realtor and Toronto Regional Real Estate Board (TRREB) President Kevin Crigger, traditionally been occupied by older buildings, fresh rental projects are currently popping up in some of the city's most prestigious neighbourhoods.
READ: The GTA's Luxury Real Estate Market is Not Only Back, It's Bigger Than Ever
"One of the amazing things [that's happened] in recent years is, we've had a number of very forward-thinking developers or investor groups who have brought a number of class-leading purpose-built rental developments to market," Crigger explains. "It's really changed the landscape of what's available, but also changes the conversation: people see the value of a purpose-built rental property in terms of security of tenancy, length of tenure, all of those things."
Indeed, Johnston & Daniel has already discovered that even during times of change, Toronto residents aren't compromising on luxury. And it seems that persistence permeates beyond the resale market: those who are accustomed to a lavish lifestyle are finding ways to uphold it, even after their Rosedale freehold has sold.
"Inventory levels are really at historic lows, based on the level of demand," Crigger explains, reflecting on the current resale market. As such, now is a prime time for sellers to make gains on a home they may be underutilizing — perhaps they're prepared to downsize, or their three-storey space simply won't meet their needs in the longer term. But making the jump from freehold to suite isn't always easy.
"With the substantial transactional cost of making a move, people are worried about making the wrong move," says Crigger. "They're worried about selling this larger home that doesn't really work for them, going into a condo, realizing they don't really love the condo lifestyle, and potentially wanting to exit to go into something different."
Luxury purpose-built rentals meet these sellers in the middle. They provide an opportunity to test-run a "condo" lifestyle, while also offering security (physical and financial), consistency, and — yes — those luxury details.
"It's really a category of interest, now that there are purpose-built rental suites in the luxury sector that are competitive to what has been exclusively luxury condominium suites previously," Crigger says.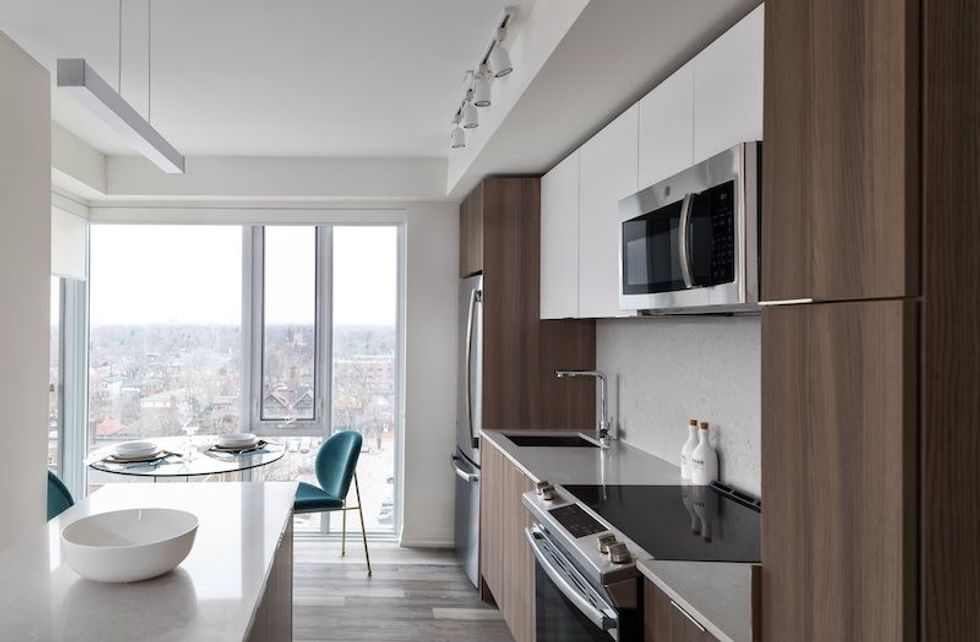 On the opposite end of the spectrum, purpose-built rentals also provide solace to those who want confidence in their dwellings; those who prefer to rent, but don't want to risk losing their space on their landlord's whim.
"First and foremost I think the need of purpose-built rental, of really any kind, is the fact that people can have that certainty that once they're living there — and assuming they're happy living there — they don't have to move again," says Johnston & Daniel realtor Leeanne Weld.
These types of rental buildings, according to Weld, are ideal for those who aren't interested in entertaining unreliability.
"The challenge for someone in a condo, for example, is if the landlord decides to sell a year [into your] living there … the difference with a rental building is once you're in, you're in. And for down-sizers, you don't want uncertainty. It's stressful. You want to imagine that [for] the rest of your years — if that's what you choose to do — you can live comfortably and securely in your rental."
Where the luxury purpose-built market is specifically concerned, Weld highlights the importance of these offerings for those who have already laid a life foundation in the city's most prestige neighbourhoods.
"I think there's a very specific need for luxury rentals for people who are coming out of big houses in, be it Rosedale, Forest Hill, or Lawrence Park, and they don't really want to give up their lifestyle, nor their possessions: their dining room table, their dining room buffet, their living room suite. They're attached," she says. "They're sentimental about all of their things, their art."
In seeking a space that can match the lifestyle found in their previous abode, these home-seekers will — naturally — be drawn to bigger (and therefore costlier) units. Luxury prices are driven by square-footage, Weld explains, alongside the location of the building itself.
One such build both Weld and Crigger hold up as a premier luxury rental offering is 101 St. Clair. With suites ranging from 600 to 1,500 sq. ft., or even larger in the two-bed penthouses, the building can accommodate those actually looking to downsize, and those who just like the idea of doing so.
Presented by Camrost Felcorp, one of Toronto's most established and esteemed developers, 101 St. Clair boasts more than 30,000 square-feet of hotel-inspired amenities… some of which, Weld notes, include a golf simulator, a screening room (read: movie theatre), and an indoor pool.
Indeed, this building has been crafted to make its residents feel like they're perpetually on vacation.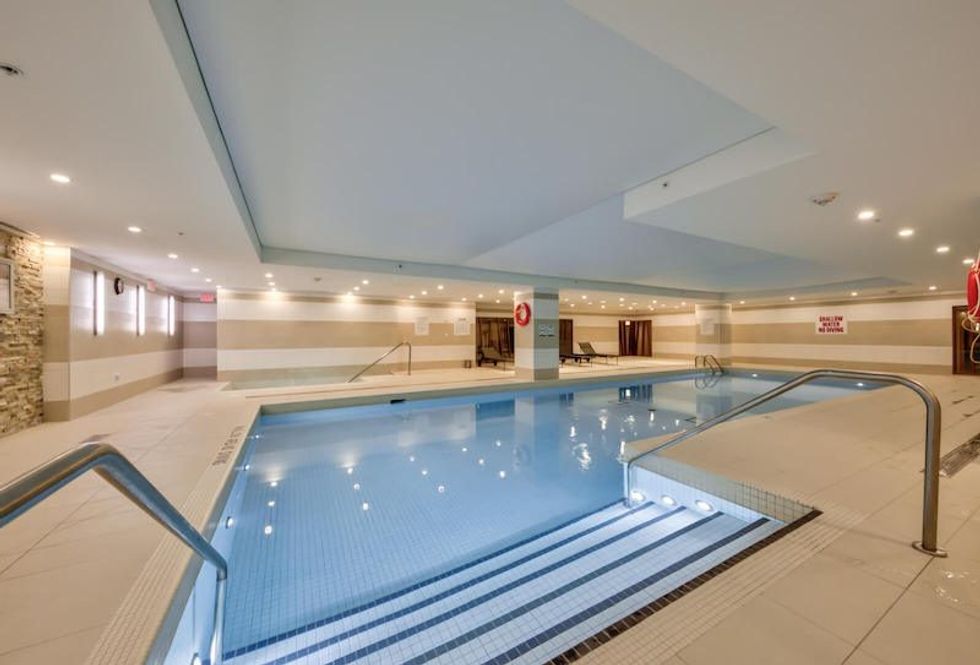 And although the amenity offerings are important, Crigger notes they're only one piece of the larger plan for what makes a rental building "luxury."
"When we're talking about purpose-built rentals — particularly those in the luxury space — it's really about service, it's about quality, and it's about lifestyle," he says. "At 101 St. Clair, there's an incredible executive concierge team that's front-of-house, greeting residents as they arrive."
A professional management company covers back-of-house, meanwhile, prepared to deal with issues ranging from a malfunctioning dishwasher to general suite improvements. Via a partnership with The Forest Hill Group, a market leader in luxury services, 101 provides its residents with à la carte services ranging from in-suite cleaning and florist delivery to front-of-the-line tickets and dry cleaning.
"It's more a concierge-driven lifestyle, where there are people available to provide service, so your home becomes really a place for you to relax and enjoy, as opposed to manage and maintain. That I think is the most intrinsic part of what true luxury is — it's an experience."
Rising up at 215 Lonsdale Road, 2Fifteen is another purpose-built rental poised to offer its residents a similar experience. With a curated team on-site prepared to help residents with whatever they may need, plus a suite of lavish amenities, the Forest Hill offering will open its doors in 2022.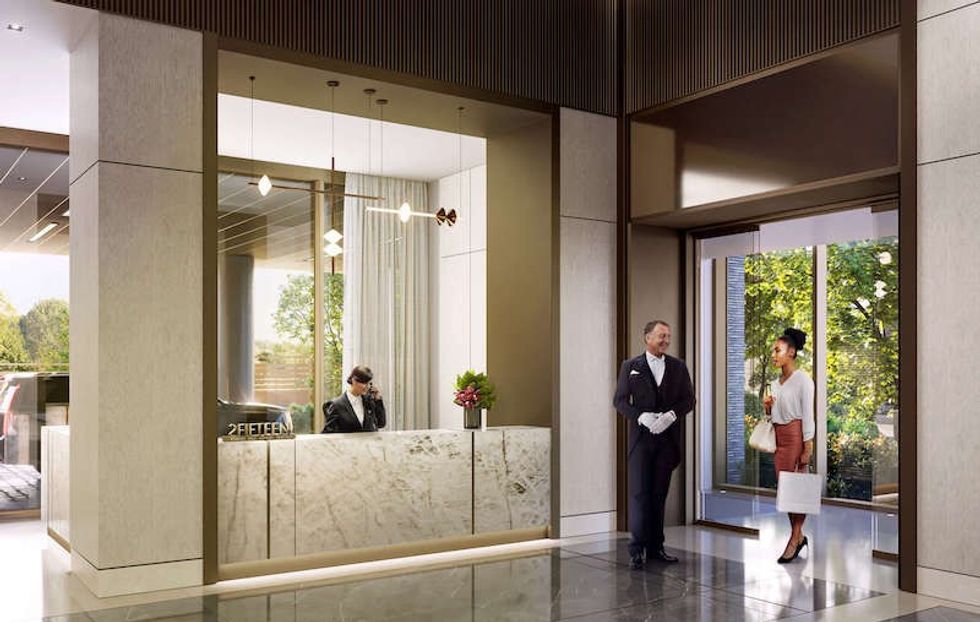 The James at Scrivener Square, now under construction, will soon serve a luxury rental experience to the Summerhill community, while The Montgomery stands near Yonge and Eglinton. Coming complete with a combination of rental suites and retail space, The Montgomery's lavish offerings are dappled with shopping opportunities too… and the more we think on it, the more fitting that seems.
In fact, The Montgomery may be particularly well-suited to another specific type of renter Weld mentions: someone who's in the city for a good time, not a long time.
Over the last year and a half, many have made moves to greener pastures. Buying in cottage country, or a more rural community, became increasingly inviting when work-from-home turned into a long game. But this summer, Toronto stirred — the urban centre has been humming back to life, and the core only promises to offer more of its old self to city dwellers as time goes on. This reawakening may draw familiar faces back home, if only for a weekend.
"Maybe you're going to be living at your country home and you just want a pied-a-terre in Toronto," Weld remarks.
In any case, whether someone is looking to be in the city for a short or long time, there's little argument against those days being spent with shopping and dining at the front doorstep, a concierge at the front desk, and swoon-worthy views out the window. Especially when all that can come with no strings attached.
Cover Image: 101 St. Clair
---
This article was produced in partnership with STOREYS Custom Studio.
Storeys Custom Studio is created in partnership with companies and brands looking to tell their own stor(e)y.