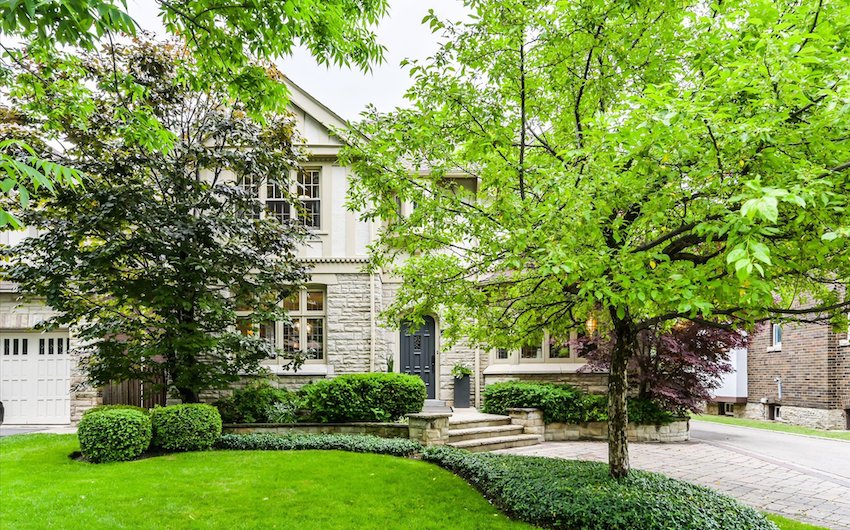 TORONTO'S LUXURY REAL ESTATE MARKET RETURNS TO PRE-PANDEMIC PEAKS, AND BEYOND
Article via Storeys
PUBLISHED: 10:57 AM NOV 4, 2021 
We don't need to recap the slowdown in real estate — all realms of it — experienced in March 2020. That's a tale as old as time by now.
The story that continues to develop, however, is the one that focuses on the different ways certain aspects of the industry have recovered — or not recovered — from the impacts of COVID-19.
Perhaps surprisingly, one of the Toronto real estate sectors that has experienced particularly strong bounce-back is the luxury realm.
And, as it turns out, this shift hasn't only stirred since March of last year; luxury's evolution is one that's been brewing since well before the pandemic struck Toronto.
"We have definitely seen a significant increase in luxury sales during 2021," says Jason Lang, Managing Partner and Mortgage & Insurance Agent at Outline Financial. "In fact, [year-to-date] 2021 [shows] almost two times more than the previous record in [year-to-date] 2017."
As a boutique mortgage and insurance company, Outline offers direct access to data and statistics to real estate agents across the GTA — including the team at Johnston & Daniel, a luxury-property focused division of Royal LePage Real Estate Services Ltd. Brokerage.
In fact, Johnston and Daniel's Lome Irwin Team, led by Carol Lome and Brayden Irwin, reports that on the ground, agents are seeing Lang's data play out in real time.
"Based on our experience, the luxury market seems to have really taken off, right alongside all other types of housing," Lome and Irwin tell STOREYS. "There has been a lot of activity in the $4-5-6-million price-point where we've been seeing, especially in the last 6 months, more buyers looking in that range, and quicker transactions on properties that would once have sat on the market for long periods of time."
Lome and Irwin say that, from an agent's perspective, it's difficult to point out specific Toronto neighbourhoods that are demonstrating the most growth. Reason-being, "all price points have really seen increases well above what you would expect over the last year and a half."
That said, the team notes major movement from high-density areas (think: condos and semi-detached builds) toward detached homes. These abodes typically offer more space, which — as you surely know by now — has taken centre-stage for importance, especially in the last 18 months.
"The biggest shift [in trends] we've seen is more upsizing rather than downsizing," Lome and Irwin say. "People have been forced to reassess the way they spend their time at home and have placed more priority on office and outdoor space, now with the need to work, learn, and live all within the same four walls."
For those who are interested in the nitty-gritty on neighbourhood details, meanwhile, Lang offers some interesting insights.
With the context of the last big "downturn" of the detached market starting in April 2017, (post the Fair Housing Plan announcement), Lang notes that some of the city's most well-known luxury neighbourhoods are just now returning to their 2016-17 numbers.
Take, for example, the trajectory Bridle Path-Sunnybrook-York Mills and St. Andrew-Windfields boast below on a year-to-date basis:

"While some neighbourhoods are "coming back" to levels already seen, other neighbourhoods are in ultra-growth mode," Lang says. Bedford Park-Nortown represents this sort of change, with a year-to-date increase of more than 375% since 2016:

When considering the reasons why luxury buyers are looking to upsize — increased indoor and outdoor space, plus a garage for storing "toys" like cars, boats, and other outdoor equipment, according to Lome and Irwin — it makes sense that Bedford Park-Nortown and areas like it would see a boom in sales. The residential neighbourhood is filled with multi-storey builds with detached garages, ideal for those looking for spaciousness both in the home, and outside of it too.
But is the current state of resurgence — paired with expansion — one that the luxury real estate market can expect to continue?
"This is very dependent on whether we see more supply. We have a constant issue of supply not meeting demand in Toronto in every price point, so unless there is some sort of catalyst that encourages more of these large, luxury homes to move through the generations, then, probably, not a lot is going to change."
At the same time, Lang notes that if you've had the sense that home prices have been on the uptick lately, you'd be (mostly) right.
"Yes, we have seen a run up in average price recently. However, it may not be as much as people think," he explains. "A lot of the increase we've seen in certain TRREB regions is just the market resetting back to where it already was in April 2017. Yes, we are definitely well above that point now, but depending which territory you are focused on, that 'cross-over' may not have happened until this year."
As costs cross thresholds and continue to rise, the luxury market's competition remains as hot as ever. That said, ensuring you're equipped with up-to-date market insights, the capacity for backup offers, and an unwavering must-have list will help ensure you don't just remain in the game… but that you come out of it a winner.
Cover Image: 262 Lytton Boulevard, Sold: Lome Irwin
Article via Storeys